COBBLESTONE HOTELS, LLC SIGNS RHINELANDER, WISCONSIN
Published on March 8, 2022
March 7, 2022 – Neenah, WI – Cobblestone Hotels announced the signing of the coming soon Cobblestone Hotel & Suites in Rhinelander, Wisconsin last month.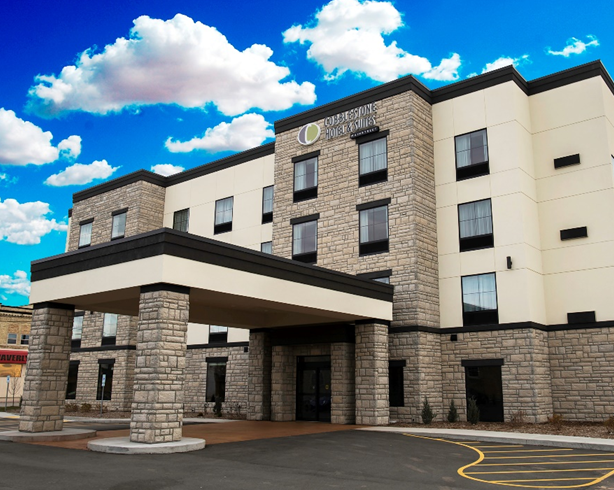 Photo: Cobblestone Inn & Suites – Two Rivers, WI


"We have been working with the partners in this project for over four years." Said Brian Wogernese, CEO of Cobblestone Hotels. "Continuing growth in our home state is incredibly exciting for us, and we look forward to watching this project come to fruition."
The Rhinelander Cobblestone, LLC group includes partners from other Cobblestone locations as well as local ownership.
Mark Gutteter, one of the investors in this location, as well as the Cobblestone Inn & Suites in Ashland, Wisconsin, is proud to announce the project moving forward. Mark moved to Rhinelander in 2006 and purchased the Rhinelander café and has since been heavily involved in the community. From The Downtown Revitalization Group to partaking in the Chamber Board, seeing the project come to light.
The Cobblestone Hotel & Suites will feature a hot breakfast, indoor pool, beer and wine bar, Wi-Fi, and more. The hotel will feature an array of room types that include flat screen televisions, a microwave and refrigerator, and Seattle's Best Coffee.
For updates on the progress of this location and others, please "like" Cobblestone Hotels on Facebook: https://www.facebook.com/cobblestonehotels/
Whether you are traveling for business or for leisure, you will experience the big city quality, and small town values that each location has to offer. Visit www.CobblestoneHotels.com for reservations or for more information.
About Cobblestone Hotels
Based in Neenah, WI Cobblestone Hotels, LLC is a leading upper-midscale hotel brand with over 160 hotels open, under construction, or in development in 29 states. The company continues to pride itself in filling the lodging needs of communities through its upper mid-scale new build brand. Signature amenities include high-speed Internet access, complimentary breakfast, convenience store, fitness centers, business centers, and more.
Cobblestone Hotels includes Cobblestone Hotels & Suites, Cobblestone Inn & Suites, Boarders Inn & Suites, Centerstone Hotels, and KeyWest Hotels. For development information please visit www.CobblestoneFranchising.com.
Cobblestone Hotels offers the Cobblestone Rewards frequent stayer program where guests receive ten points for every dollar spent, and can be redeemed as award nights, or with other redemption partners. For more information visit www.CobblestoneRewards.com
Contact: marketing@staycobblestone.com