COBBLESTONE HOTELS, LLC CELEBRATES THE GRAND OPENING OF THE COBBLESTONE INN & SUITES IN SPRINGFIELD, COLORADO
Published on June 13, 2023
June 13, 2023 – Neenah, WI – Cobblestone Hotels celebrated the grand opening and official ribbon cutting ceremony for their new location in Springfield, Colorado.
The community of Springfield gathered inside the Cobblestone Inn & Suites to celebrate the new addition to the town. Representatives from the investment group were present, along with representatives from the Town of Springfield, First National Bank, and Diamond Hospitality Services, which is the management company for this hotel.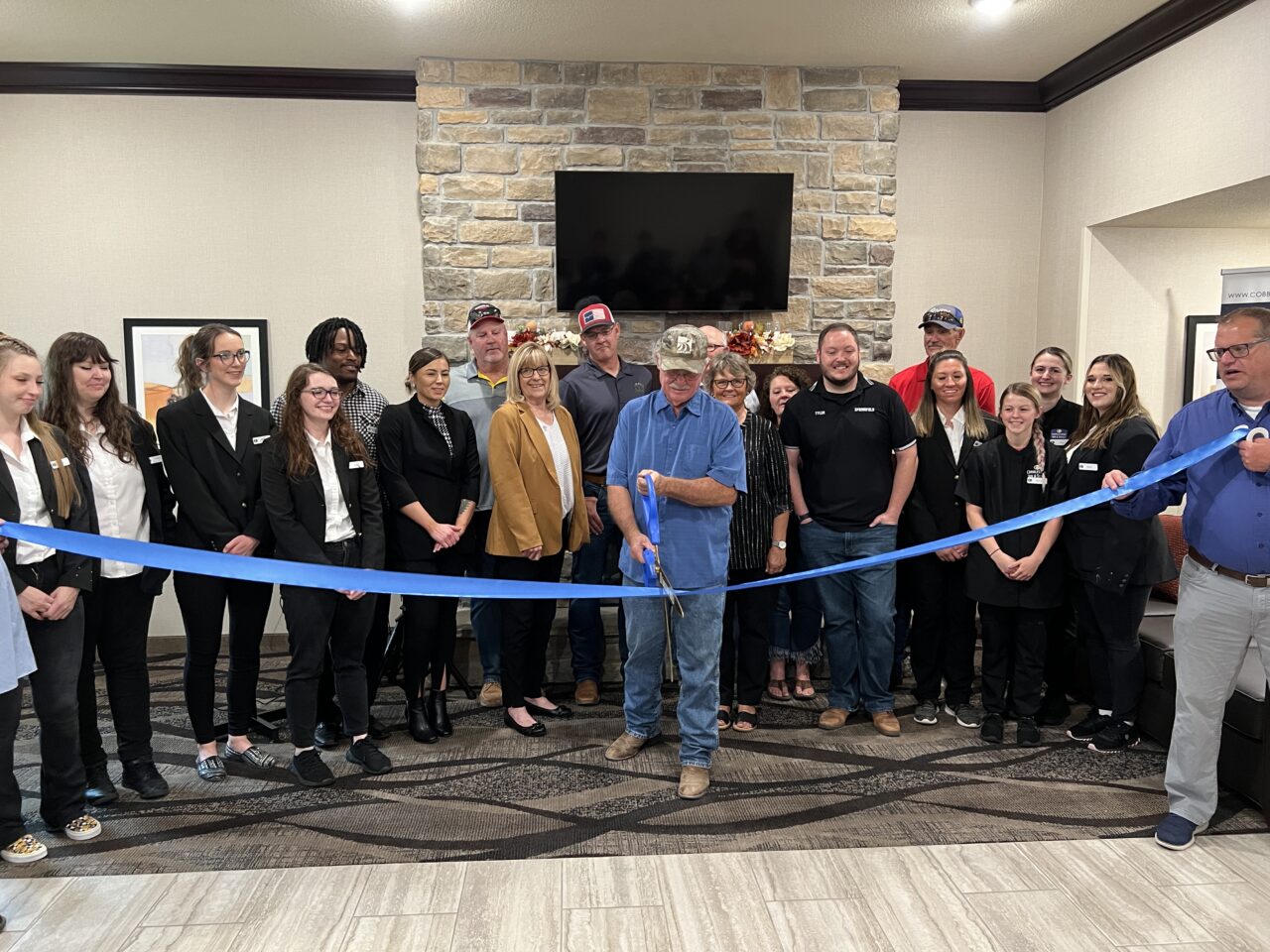 First to speak was Cheryl Sanchez with Baca County Economic Development. Sanchez described her vision for this hotel when she said "It's going to bring commerce to our community, we're going to stop people off the highway. We're going to be able to have conventions and meetings that maybe we couldn't have before." Glen (Spike) Asmus spoke on behalf of the County Commissioner's office, expressing their support over the years for bringing a hotel to Springfield. "It's something that we've thought we needed for a long time" Asmus said.
Tim Shefchik, Vice President of Development for Cobblestone Hotels, referred to Springfield as a "Commerce hub" for surrounding municipalities. The hope is that Springfield will provide quality lodging for anyone travelling to Springfield and Baca County for work, area events and attractions, and beyond. The journey to bringing this hotel to the community would not have been possible without the cooperation and shared vision of multiple different offices. Mayor Tyler Gibson took a moment to reflect on the impact that this project has had on the community of Springfield. "I think that this project has really strengthened the relationship between the county and the town" Gibson said, "and I just want to thank everybody involved in that".
Jeremy Griesbach, President of Development for Cobblestone Hotels, closed the ceremony with a few words of appreciation to all of those involved in bringing Cobblestone to Springfield. "We appreciate everything" said Griesbach, addressing the investors, First National Bank, and all those from the county and city who remained dedicated throughout the long journey to opening the hotel.
This 45-guestroom hotel boasts the consistent amenities of the Cobblestone Brand, including high-speed internet access, a complimentary hot breakfast each morning, and 24-hour Seattle's Best Coffee service for all guests to enjoy. Guestrooms are perfectly tailored to meet the needs of the modern traveler, while designed with an element of contemporary elegance. In-room amenities include flat-screen TVs, additional recharge outlets for electronics, microwaves, mini-refrigerators, in-room coffee brewers, hairdryers, iron and ironing boards, sturdy desks, luxury linens, and bathroom essentials. Additional guest considerations include an onsite exercise facility, Cobblestone Marketplace convenience store, business center, and complimentary onsite parking

Whether you are travelling for business or leisure, when you stay Cobblestone you will experience the big city quality and small-town values that each location has to offer. Visit www.staycobblestone.com for reservations and more.
To stay up to date with all of Cobblestone's current and upcoming projects, please "like" Cobblestone Hotels on Facebook: https://www.facebook.com/cobblestonehotels/

About Cobblestone Hotels
Based in Neenah, WI Cobblestone Hotels, LLC is a leading upper-midscale hotel brand with over 168 hotels open, under construction, or in development in 29 states. The company continues to pride itself in filling the lodging needs of communities through its upper mid-scale new build brand. Signature amenities include high-speed Internet access, complimentary breakfast, convenience store, fitness centers, business centers, and more.
Cobblestone Hotels includes Cobblestone Hotels & Suites, Cobblestone Inn & Suites, Boarders Inn & Suites, Centerstone Hotels, and KeyWest Hotels. For development information please visit www.CobblestoneFranchising.com.
Cobblestone Hotels offers the Cobblestone Rewards frequent stayer program where guests receive ten points for every dollar spent, and can be redeemed as award nights, or with other redemption partners. For more information visit www.CobblestoneRewards.com
Contact: marketing@staycobblestone.com