COBBLESTONE HOTELS, LLC CELEBRATES RIBBON CUTTING IN YUMA, COLORADO
Published on May 10, 2022
May 10, 2022 – NEENAH, WISCONSIN – Cobblestone Hotels held the grand opening celebration and official ribbon cutting for the new Cobblestone Inn & Suites in Yuma, Colorado on May 5, 2022.
The Cobblestone Inn & Suites is located off the bustling Highway 34 at 1011 W 8th Ave. The two-story hotel has 45 guest rooms, fitness center, meeting room, and business center.
The common theme at Cobblestone Hotels ground breakings and grand openings is "community". "What it really takes, is the community and the commitment of the community." Said Tim Shefchik, VP of Development of BriMark Builders. "All the people that came together to push this project forward, is who we have to thank for making this project happen."
Shelby Clark, the Director of Yuma County EDC proudly greeted the crowd. "Here you will find that Yuma is not just a town, but it is a community of visionaries who are all passionate about making the place they live vibrant."
Representing the Yuma Hotel Investment Group and the Bank of Colorado, Dan Seedorf noted the long journey it took to bring the hotel into fruition. Seedorf thanked several members that played an integral part in the project, thanking them for their persistence and hard work. "There is no place like Yuma, Colorado, this community has been a great place to do business for many of us." Said Seedorf. "We hope we can be a catalyst for new businesses to come to our community. These projects take a lot of work and capital from wiling community members, and it is great to team up with friends and partners that share the same vision to give back to our town with these types of projects. As we look forward to growing Yuma even more, I hope this can be an example of how we can all be a part of positive economic engines that makes Yuma so prosperous."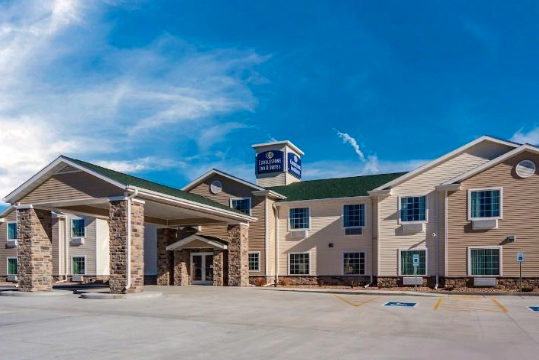 "Yuma is the seventh open location in Colorado, with two more under construction." Said Jeremy Griesbach, President of Development of Cobblestone Hotels. "When our development team first came into Yuma, there were only ten Cobblestone locations open in the entire portfolio. Fast forward to May 5th of 2022, we are now at 165 open or coming soon and 28 states."
The hotel additionally features the brand's consistent amenities such as an onsite convenience store, complimentary high-speed internet access, on-site guest laundry, Seattle's Best Coffee, and a complimentary breakfast served daily.
Guestrooms are perfectly tailored to meet the needs of modern travelers, while tastefully designed with an element of contemporary elegance. Amenities include flat-screen TVs, additional recharge outlets for electronics, microwaves, mini refrigerators, in-room coffee brewers, hairdryers, iron and ironing boards, desks, luxury linens, and bathroom essentials.
For updates please "like" Cobblestone Hotels on Facebook: https://www.facebook.com/cobblestonehotels/
Whether you are traveling for business or for leisure, you will experience the big city quality, and small town values that each location has to offer. Visit www.CobblestoneHotels.com for reservations or for more information.
About Cobblestone Hotels
Based in Neenah, WI Cobblestone Hotels, LLC is a leading upper-midscale hotel brand with over 165 hotels open, under construction, or in development in 28 states. The company continues to pride itself in filling the lodging needs of communities through its upper mid-scale new build brand. Signature amenities include high-speed Internet access, complimentary breakfast, convenience store, fitness centers, business centers, and more.
Cobblestone Hotels includes Cobblestone Hotels & Suites, Cobblestone Inn & Suites, Boarders Inn & Suites, Centerstone Hotels, and KeyWest Hotels. For development information please visit www.CobblestoneFranchising.com.
Cobblestone Hotels offers the Cobblestone Rewards frequent stayer program where guests receive ten points for every dollar spent, and can be redeemed as award nights, or with other redemption partners. For more information visit www.CobblestoneRewards.com
Contact: marketing@staycobblestone.com