COBBLESTONE HOTELS, LLC BREAKS GROUND IN BOISE CITY, OKLAHOMA 
Published on June 13, 2023
June 13, 2023 – Neenah, WI – Cobblestone Hotels celebrated the groundbreaking of their new hotel that is coming soon to Boise City, Oklahoma.
Boise City officials, representatives for Cobblestone Hotels, speakers from the investment group and bank who are funding the hotel, and members of the community of Boise City gathered at the site of the future Cobblestone Inn & Suites – Boise City to share their passion for this project and for the future of Boise City. Town Manager Wayne Twyman was among the first to speak, and he shared his outlook on the location where the hotel is being built, and the positive impact that this construction might have on the development of the city. "We're hoping that this will be a catalyst" Twyman said, "because we have other lots here that we want to have other businesses in".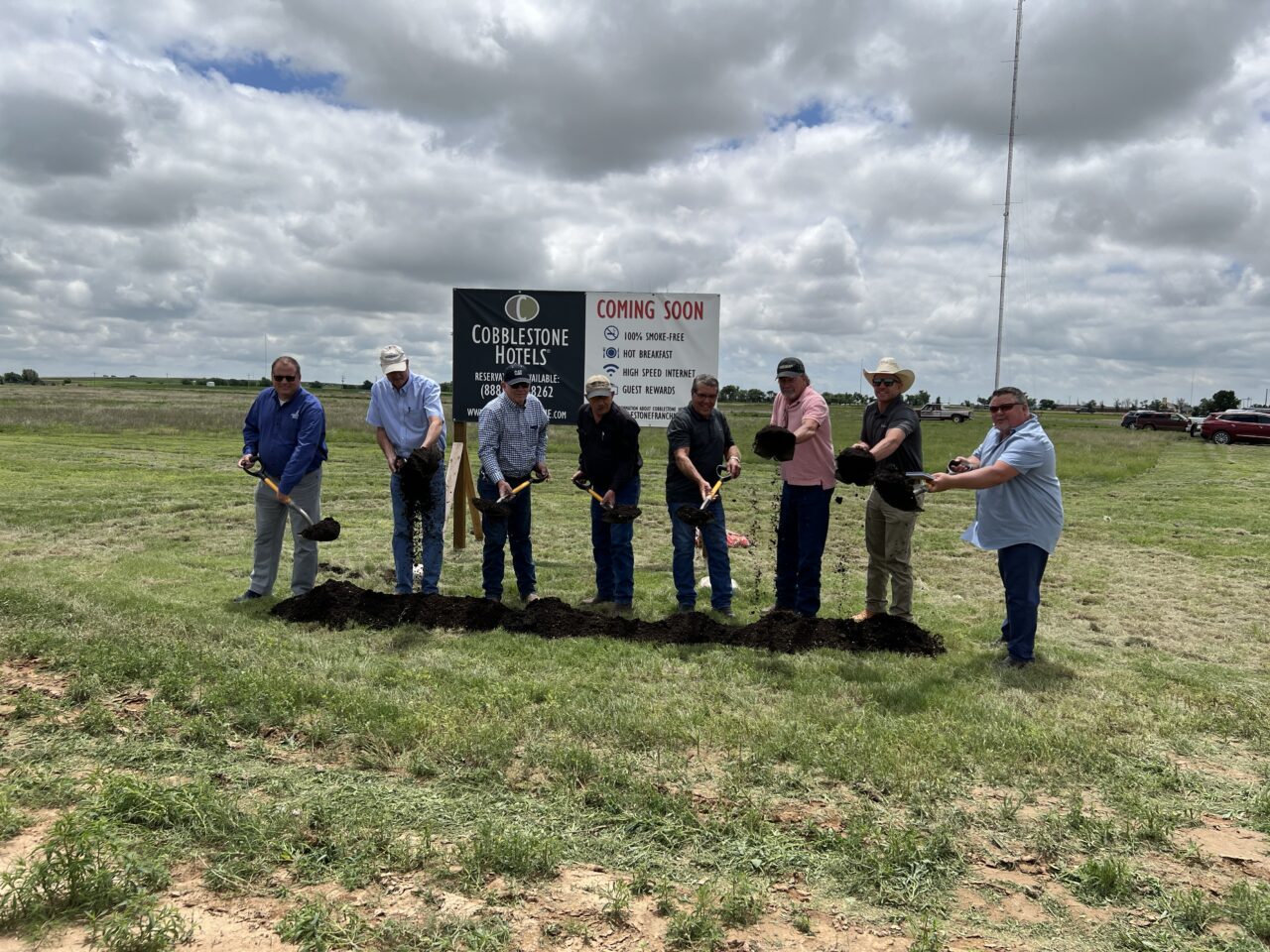 The hotel is being built alongside Highway 287, which is a major passage for those travelling through northwestern Oklahoma. Hopes that the addition of the Cobblestone Hotel & Suites to Boise will kickstart further development in Boise City was a sentiment echoed by members of the investment group Larry Crews and Wayne Montgomery. Speaking about the remaining members of the investment group, Montgomery said "the common theme with all of them was not, man let's make a pile of money, let's fill our sack. It was, let's do something new for this community".
Tim Shefchik, Vice President of Development for Cobblestone Hotels, closed the ceremony by addressing all of those from the community of Boise City who played a part in getting the hotel to where it is today. Shefchik said "City, county, investors, bankers, everybody here. It's a small town, and [it takes] everybody rolling up their sleeves together and working hard to get this done, because it's the right thing, it's what's needed in the community. And we're there now."
This hotel will be a 39 room facility spanning across two stories. Guests will be able to enjoy Cobblestone's consistent amenities, such as 24-hour Seattle's Best Coffee service, high-speed internet access, and a complimentary hot breakfast each morning. Guestrooms will be equipped with flat-panel televisions, microwaves, refrigerators, and in-room personal coffee brewers.
The Cobblestone Inn & Suites will be located at 1210 Avenue A in Boise City. This hotel will host an indoor pool, business center, onsite fitness center, and onsite convenience store to meet the needs of those seeking lodging in the Boise City area. The property is being constructed by BriMark Builders and managed by Slate Hospitality Group.
For updates on the progress of this location and others, please "like" Cobblestone Hotels on Facebook: https://www.facebook.com/cobblestonehotels/.
About Cobblestone Hotels
Based in Neenah, WI Cobblestone Hotels, LLC is a leading upper-midscale hotel brand with over 168 hotels open, under construction, or in development in 29 states. The company continues to pride itself in filling the lodging needs of communities through its upper mid-scale new build brand. Signature amenities include high-speed Internet access, complimentary breakfast, convenience store, fitness centers, business centers, and more.
Cobblestone Hotels includes Cobblestone Hotels & Suites, Cobblestone Inn & Suites, Boarders Inn & Suites, Centerstone Hotels, and KeyWest Hotels. For development information please visit www.CobblestoneFranchising.com.
Cobblestone Hotels offers the Cobblestone Rewards frequent stayer program where guests receive ten points for every dollar spent, and can be redeemed as award nights, or with other redemption partners. For more information visit www.CobblestoneRewards.com
Contact: marketing@staycobblestone.com