COBBLESTONE HOTELS, LLC BREAKS GROUND IN BELLEFONTAINE, OHIO
Published on November 6, 2023
November 6, 2023 – Neenah, WI – Cobblestone Hotels celebrated the groundbreaking of their new hotel that is coming soon to Bellefontaine, Ohio.

Attending this ceremony were Bellefontaine city officials, members of the Mary Rutan Board of Directors, members of the hotel's investment group, representatives of Cobblestone Hotels, representatives from Richwood Bank, and members of the Logan County Chamber of Commerce. All gathered alongside members of the community at the site of the future Cobblestone Hotel & Suites to reflect on the journey of bringing the hotel to Bellefontaine and look towards the possibilities that the construction of this hotel will bring to the city.

The land that the Cobblestone Hotel & Suites is being constructed on was acquired by the Mary Rutan Board of Directors and will be located next to the Mary Rutan Health Center, which is directly adjacent to the site of the future hotel. Chad Ross, CEO of Mary Rutan, shared his vision for the hotel, and the part that this project will play in the future of Bellefontaine. "We, from the very beginning, designed this property to not only meet our needs but also to be a multi-use property for other things that can come to the area, and most specifically a hotel" Ross said. Jeremy Griesbach, President of Development for Cobblestone Hotels, shared his enthusiasm for the brand's continued growth in Ohio, which is marked by the groundbreaking of this hotel. "We are very happy and excited to be a part of Bellefontaine" Griesbach said, sharing that the Cobblestone Hotel & Suites – Bellefontaine would be the first Main Street prototype in the state of Ohio. Cobblestone's Main Street prototype is an upscale brand that emphasizes convenient access to area businesses, restaurants, shops, and attractions. "We really do look forward to being a part of the community" Griesbach said, thanking the key members of the community who had helped bring Cobblestone to the city.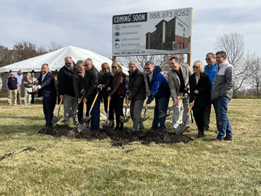 Mayor Ben Stahler shared his enthusiasm for the project and reflected on the journey of partnering with Cobblestone Hotels to provide much needed lodging to the area. "We were always just so close" said Stahler, commenting on the hardship of trying to find a lodging solution that would best fit the unique needs of the city "And then along came Cobblestone, and that is just the greatest Godsend". Stahler shared that the need for lodging had been identified long ago. "Every community really deserves good, better, and best…" Stahler said "And we knew, in our hearts, we needed another hotel. You'd hear that from friends and family that would stay." The addition of a hotel to the city is expected not only to benefit the immediate area, but to support the economy of Bellefontaine and Logan County as a whole.
Chad Hoffman, CEO and President of Richwood Bank, echoed the sentiments shared by those in attendance, that this hotel would represent more than simply a place to stay for the city of Bellefontaine. Hoffman cited employment opportunities, increased revenue to local businesses, and an increase in visibility of the area that comes along with providing a reliable lodging solution. "A thriving hotel doesn't just offer travelers a place to rest, but it also breathes new life into the local economy. It creates jobs, supports small businesses, and generates tourism revenue." Hoffman said. "It's a catalyst for growth that ripples through the community". The Cobblestone brand specializes in bringing lodging solutions to small-town America, and the Cobblestone team understands the importance of bringing business into a small community and keeping business coming back. "This hotel Is not just a building" Hoffman said. "It's a symbol of the shared belief in the potential of Bellefontaine".
This hotel will be an eighty-room facility spanning four stories. Guests will be able to enjoy Cobblestone's consistent amenities, such as 24-hour Seattle's Best Coffee service, high-speed internet access, and a complimentary hot breakfast each morning. Guestrooms will be equipped with flat-panel televisions, microwaves, refrigerators, and in-room personal coffee brewers.
The Cobblestone Hotel & Suites will be located at 1134 North Main Street in Bellefontaine, Ohio. This hotel will host an indoor pool, business center, onsite fitness center, and onsite convenience store to meet the needs of those seeking lodging in the Bellefontaine area. The property is being constructed by BriMark Builders and managed by Slate Hospitality Group.
For updates on the progress of this location and others, please "like" Cobblestone Hotels on Facebook: https://www.facebook.com/cobblestonehotels/.
About Cobblestone Hotels
Based in Neenah, WI Cobblestone Hotels, LLC is a leading upper-midscale hotel brand with over 172 hotels open, under construction, or in development in 29 states. The company continues to pride itself in filling the lodging needs of communities through its upper mid-scale new build brand. Signature amenities include high-speed Internet access, complimentary breakfast, convenience store, fitness centers, business centers, and more.
Cobblestone Hotels includes Cobblestone Hotels & Suites, Cobblestone Inn & Suites, Boarders Inn & Suites, Centerstone Hotels, and KeyWest Hotels. For development information please visit www.CobblestoneFranchising.com.
Cobblestone Hotels offers the Cobblestone Rewards frequent stayer program where guests receive ten points for every dollar spent, and can be redeemed as award nights, or with other redemption partners. For more information visit www.CobblestoneRewards.com

Contact: marketing@staycobblestone.com