Cobblestone Hotels Breaks Ground on 2nd Idaho Location
Published on October 4, 2017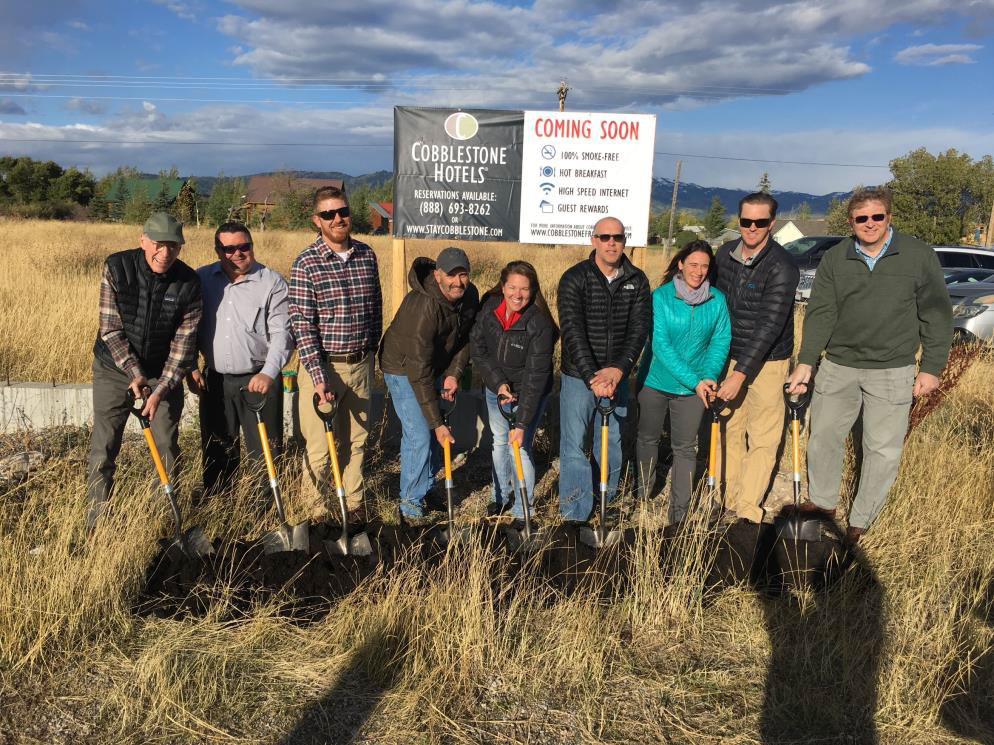 NEENAH, WISCONSIN – Cobblestone Hotels, LLC® has broken ground on the second Idaho location, a Cobblestone Hotel & Suites ® in Victor, a community known as "A Town to Come Home To". Located in the southern end of Teton Valley, Victor is surrounded by foothills, forests, and mountains that could be seen today behind the groundbreaking ceremony.
"We officially have our foot in Idaho's door." said Brian Wogernese, President & CEO of Cobblestone Hotels. "The first location in Soda Springs will be opening in a couple of months, and now breaking ground today on our second location is really exciting for us. I look forward to continuing our efforts here in the west."
The new hotel will feature 56 rooms, an onsite lounge, indoor pool, guest laundry, and a fitness room. Signature amenities will include high-speed Internet access, complimentary hot breakfast, convenience store, fitness centers, business centers, and more.
The Cobblestone Hotel & Suites ® will be operated by WHG Companies, a hospitality company based in Neenah, WI, and construction by BriMark Builders, LLC.
Cobblestone Hotels, LLC® offers consistency in comfortable hospitality experience to all guests that travel for business or leisure. For more information on Cobblestone Hotels, LLC® please visit www.staycobblestone.com.
About Cobblestone Hotels
Based in Neenah, WI Cobblestone Hotels, LLC® is a leading upper-midscale hotel brand with over 134 hotels open, under construction, or in development. The company continues to pride itself in filling the lodging needs of communities through its upper mid-scale new build brand.
Cobblestone Hotel & Suites® is part of Cobblestone Hotels, LLC®, which also includes Cobblestone Inn & Suites® and Boarders Inn & Suites® by Cobblestone. For development information please visit www.cobblestonefranchising.com.
Contact: Josie Kilgore, Cobblestone Hotels, 920-230-2622, jkilgore@cobblestonehotels.com