SLATE HOSPLITALITY GROUP, LLC CELEBRATES THE OPENING OF THE COBBLESTONE HOTEL & SUITES IN DE PERE, WISCONSIN
Published on November 4, 2022
November 4, 2022 – Neenah, WI – SHG announces the opening of the Cobblestone Hotel & Suites and Wissota Chophouse – De Pere. The addition of this location marks SHG's twenty-third managed property in the state of Wisconsin.

The Cobblestone Hotel & Suites and Wissota Chophouse is established at 499 Main Avenue in the city of De Pere. This 4-floor hotel will consist of 60 elegantly designed guestrooms equipped with premium amenities and services to serve the modern traveler.

This hotel is located in the De Pere market and will service travelers who are likely to be coming to the area via the Austin Straubel International Airport or Interstate 41. De Pere is home to a trove of businesses and area attractions that will draw guests to the area. Popular area attractions include Lambeau Field – home to Wisconsin's Green Bay Packers, and the Resch Center, which hosts a multitude of sporting events and also serves as a music/performance venue. Visitors to the nearby colleges of St. Norberts and the University of Wisconsin – Green Bay will also find the Cobblestone Hotel & Suites and Wissota Chophouse to be a convenient stay.

Slate Hospitality Group looks forward to establishing the Cobblestone Hotel & Suites and Wissota chophouse as a dynamic local partner and neighbor to area businesses. This property is projected to bring 15-25 full-time jobs, as well as several part-time jobs, to the city. The busiest season is predicted to be from August to October, which coincides with the NFL football season each year.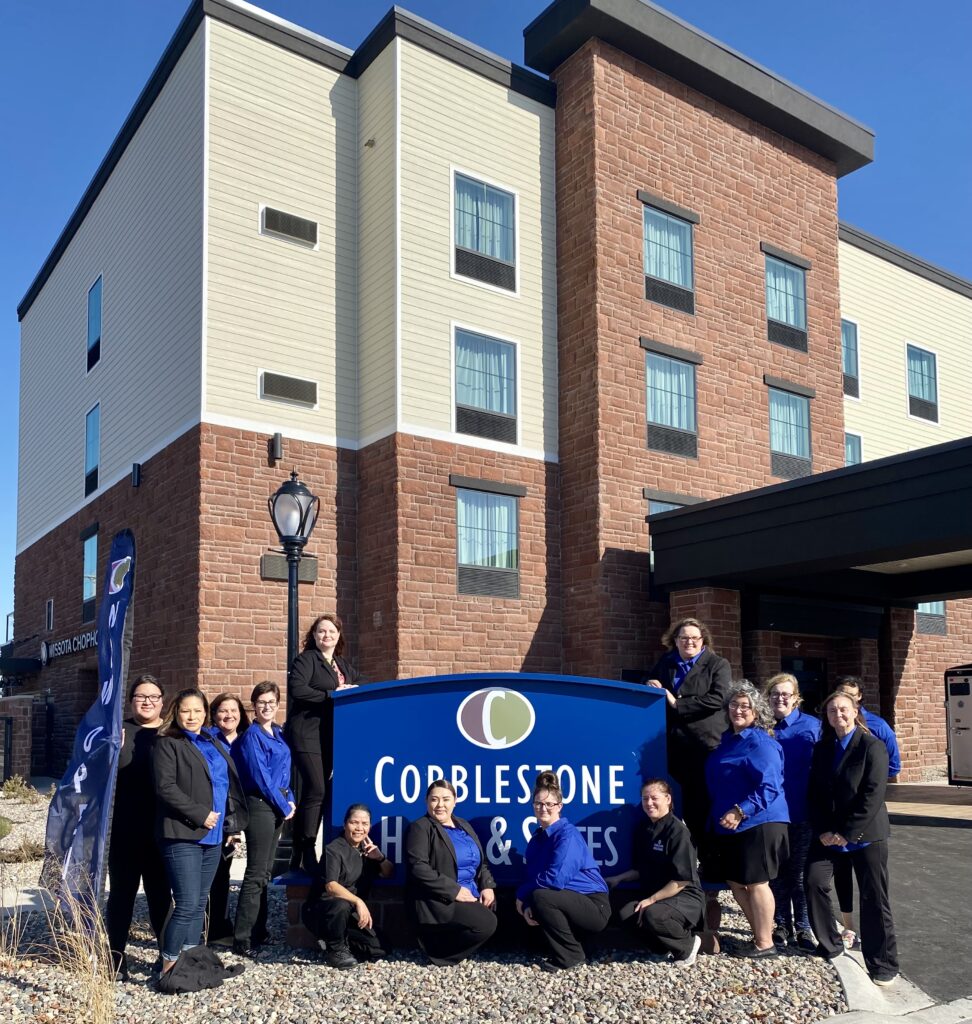 This hotel offers guests the services and amenities they need to enjoy a comfortable stay. Guestroom amenities include in-room coffee and tea makers, mini refrigerators, microwaves, luxury linens, and flat-screen televisions. A complimentary breakfast is offered daily, and high-speed internet access can be enjoyed throughout the hotel. The Cobblestone Hotel & Suites and Wissota Chophouse – De Pere also sports an indoor pool, onsite convenience store, business center, exercise facility, and a meeting room for the enjoyment of all those who choose to stay Cobblestone while visiting De Pere, WI.
Guests travelling to De Pere for business or leisure will find exceptional service and quality lodging at the Cobblestone Hotel & Suites and Wissota Chophouse. Visit www.SlateHG.com to learn more about SHG's services.

ABOUT SLATE HOSPITALITY GROUP
Based in Neenah, WI, SHG prides itself on implementing and executing creative sales, financial management, and operational management solutions for all properties in its portfolio. With over 125 years of combined experience in the hospitality industry, Slate Hospitality Group's team of experts are uniquely positioned to advise and assist in their properties operations and promote success.
The Slate Hospitality Group's portfolio includes Boarders Inn & Suites, Cobblestone Hotel, Cobblestone Hotel & Suites, Cobblestone Inn & Suites, Cobblestone Suites, Royal Ridges, Sleep Inn & Suites, and Wissota Chophouse brands.
SHG Provides a comprehensive list of management services, including operations, sales solutions, marketing solutions, eCommerce solutions, revenue management, financial management, and consulting services. To learn more and to meet the SHG team, visit www.SlateHG.com.
Contact: info@slatehg.com