COBBLESTONE HOTELS, LLC BREAKS GROUND IN OTTUMWA, IOWA
Published on May 31, 2022
May 31, 2022 – Neenah, WI – Cobblestone Hotels held a groundbreaking ceremony for the new hotel and restaurant coming soon to Ottumwa, Iowa.
In attendance were members of the Ottumwa Regional Legacy Foundation, Bridgeview Center Board members, officials from the City of Ottumwa, members of the investment group Ottumwa Hospitality LLC, and members of the community who are excited to welcome Cobblestone to the area.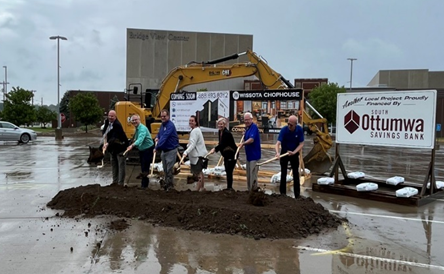 Mayor Rick Johnson was the first to speak at this event and voice his enthusiasm for this new addition to Ottumwa. "The economic impact of this hotel is going to greatly benefit our community," said Johnson. "It's going to be a game changer for Bridgeview Center in the future".
Bridgeview Center Inc. Board President Jamie Scott also expressed the value that the Cobblestone Hotel & Suites – Ottumwa & Wissota Chophouse is expected to bring to the community. Scott noted "We will be able to fill this hotel with a wide variety of people who attend our events, shop in our local stores, eat in our local restaurants, and enjoy and hopefully come back again and again".
This hotel will be an 83 room, four story high building modeled after the Cobblestone Main Street prototype. Guests will be able to enjoy Cobblestone's consistent amenities, such as 24-hour Starbucks Coffee service, high-speed internet access, fitness room, and a complimentary hot breakfast each morning. Guestrooms will be equipped with flat-panel televisions, microwaves, refrigerators, and in-room personal coffee brewers.
The Wissota Chophouse, a high-end steakhouse known for its quality dishes and extensive list of microbrews, will be a key feature of this hotel. The Cobblestone Hotel & Suites – Ottumwa will also host an indoor pool, business center, and board room to meet the needs of travelers coming to Ottumwa.
Jeremy Griesbach, President of Development for Cobblestone Hotels, spoke on the years of hard work and dedication that it took on all levels of involvement to bring this project to fruition. Jeremy emphasized that he was "Very, very impressed along the whole way of the pride of community that the residents of Ottumwa and the Ottumwa area have".
The Cobblestone Hotel & Suites and Wissota Chophouse will be located at 108 Church Street in the city of Ottumwa. The property is being constructed by BriMark Builders and managed by SHG Companies.
For updates on the progress of this location and others, please "like" Cobblestone Hotels on Facebook: https://www.facebook.com/cobblestonehotels/.
About Cobblestone Hotels
Based in Neenah, WI Cobblestone Hotels, LLC is a leading upper-midscale hotel brand with over 160 hotels open, under construction, or in development in 29 states. The company continues to pride itself in filling the lodging needs of communities through its upper mid-scale new build brand. Signature amenities include high-speed Internet access, complimentary breakfast, convenience store, fitness centers, business centers, and more.
Cobblestone Hotels includes Cobblestone Hotels & Suites, Cobblestone Inn & Suites, Boarders Inn & Suites, Centerstone Hotels, and KeyWest Hotels. For development information please visit www.CobblestoneFranchising.com.
Cobblestone Hotels offers the Cobblestone Rewards frequent stayer program where guests receive ten points for every dollar spent, and can be redeemed as award nights, or with other redemption partners. For more information visit www.CobblestoneRewards.com
Contact: marketing@staycobblestone.com