COBBLESTONE HOTELS, LLC BREAKS GROUND IN MOSINEE, WISCONSIN
Published on May 26, 2022
May 26, 2022 – Neenah, WI – Cobblestone Hotels celebrated the groundbreaking of their new hotel that is coming soon to Mosinee, Wisconsin.
In attendance were representatives from the Mosinee Area Chamber of Commerce, members of the investment group Mosinee Hotel Group, LLC, and Mosinee city officials. A representative for Northern State Bank was in attendance as well, along with enthusiastic members of the community and other local business owners who are looking forward to welcoming Cobblestone to the area.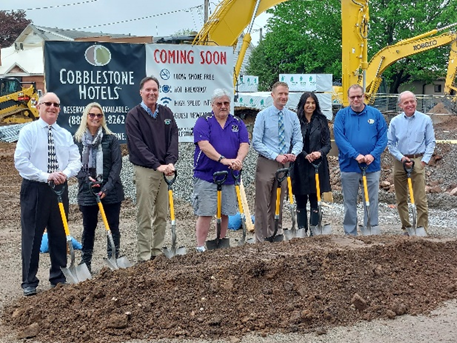 The ceremony kicked off with a brief welcome from City Administrator Jeff Gates, followed by a statement from Mayor Brent Jacobson. Jacobson spoke about the years-long journey that Mosinee underwent to bring a hotel to their city. "What we're standing on, and what's going to transpire here, is really a testament to the investment that people want to make in this community, because they see this community moving forward as a leader in the Central Wisconsin area," said Jacobson.
With the addition of the Cobblestone Hotel & Suites, Mosinee is taking a huge step towards continuing development of the downtown community, which officials note has been a focus of theirs in recent years. "We're very excited about this day, and we've been very excited about this project for a long time," said Gates.
This hotel will be a 54 room, four story building modeled after the Cobblestone Main Street prototype. Guests will be able to enjoy Cobblestone's consistent amenities, such as 24-hour Seattle's Best Coffee service, high-speed internet access, and a complimentary hot breakfast each morning. Guestrooms will be equipped with flat-panel televisions, microwaves, refrigerators, and in-room personal coffee brewers.
The Cobblestone Hotel & Suites – Mosinee will also host an indoor pool, business center, fitness center and meeting room to meet the needs of both locals and travelers who are seeking lodging in the Mosinee area.
Jeremy Griesbach, President of Development for Cobblestone Hotels, addressed those in the audience who had helped push the development of this hotel forward. "This doesn't happen, and as many people have mentioned today, without the support of the city" Griesbach said. "Jeff and the Mayor, thank you all very much for helping make this happen. Without the investors, this doesn't happen either. So, thanks for believing in Mosinee, and also thank you for us, for believing in Cobblestone".
Brian Wogernese, CEO of Cobblestone Hotels, noted "We are very proud to be a part of the city of Mosinee. It always hits home when we get to celebrate continued growth in our home state, and when we start seeing less distance between our locations."
The Cobblestone Hotel & Suites will be located at 216 Main Street in the city of Mosinee. The property is being constructed by BriMark Builders and managed by Slate Hospitality Group.
For updates on the progress of this location and others, please "like" Cobblestone Hotels on Facebook: https://www.facebook.com/cobblestonehotels/.
About Cobblestone Hotels
Based in Neenah, WI Cobblestone Hotels, LLC is a leading upper-midscale hotel brand with over 160 hotels open, under construction, or in development in 28 states. The company continues to pride itself in filling the lodging needs of communities through its upper mid-scale new build brand. Signature amenities include high-speed Internet access, complimentary breakfast, convenience store, fitness centers, business centers, and more.
Cobblestone Hotels includes Cobblestone Hotels & Suites, Cobblestone Inn & Suites, Boarders Inn & Suites, Centerstone Hotels, and KeyWest Hotels. For development information please visit www.CobblestoneFranchising.com.
Cobblestone Hotels offers the Cobblestone Rewards frequent stayer program where guests receive ten points for every dollar spent, and can be redeemed as award nights, or with other redemption partners. For more information visit www.CobblestoneRewards.com
Contact: marketing@staycobblestone.com