COBBLESTONE HOTELS, LLC BREAKS GROUND IN FREMONT, WI
Published on October 7, 2021
October 7, 2021 – Neenah, WI – Cobblestone Hotels broke ground on a new Cobblestone Inn & Suites in Fremont, Wisconsin; the second Wisconsin location to break ground today.
"It truly is an exciting moment, and we look forward to this project in the village of Fremont." Said Nicole Lemens, and investor of the hotel group.
Nicole's father was a resident of Fremont and had a vision to bring a hotel to Fremont; Nicole is bringing that vision to fruition.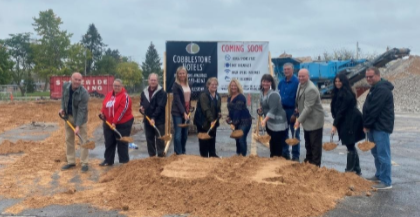 Allison Gleisner, the President of the Fremont Chamber, said "Fremont's history has long been rooted in tourism. This further helps us further expand on that and bring more people to down. We are very much seasonal at this point, and this allows us to draw tourism year-round."
The Cobblestone Inn & Suites will consist of two floors and forty-five guestrooms. The hotel will feature breakfast, Wi-Fi, guest laundry, and more. The hotel will feature an array of room types including extended stay suites with kitchens.
For updates on the progress of this location and others, please "like" Cobblestone Hotels on Facebook: https://www.facebook.com/cobblestonehotels/
Whether you are traveling for business or for leisure, you will experience the big city quality, and small town values that each location has to offer. Visit www.CobblestoneHotels.com for reservations or for more information.
About Cobblestone Hotels
Based in Neenah, WI Cobblestone Hotels, LLC is a leading upper-midscale hotel brand with over 160 hotels open, under construction, or in development in 28 states. The company continues to pride itself in filling the lodging needs of communities through its upper mid-scale new build brand. Signature amenities include high-speed Internet access, complimentary breakfast, convenience store, fitness centers, business centers, and more.
Cobblestone Hotels includes Cobblestone Hotels & Suites, Cobblestone Inn & Suites, Boarders Inn & Suites, Centerstone Hotels, and KeyWest Hotels. For development information please visit www.CobblestoneFranchising.com.
Cobblestone Hotels offers the Cobblestone Rewards frequent stayer program where guests receive ten points for every dollar spent, and can be redeemed as award nights, or with other redemption partners. For more information visit www.CobblestoneRewards.com
Contact: marketing@staycobblestone.com